In this post, I'll show you how to make your handyman website look like a professional designed it for a fraction of the cost.
After you complete this section, you'll have a website that impresses your friends, family , and most importantly, your customers.  You'll acheive this by installing a pre-designed theme on your website.
And don't worry, your website won't look like anybody else's website.  Even if you use a WordPress theme, there are still infinite ways for you to customize, tweak, and make your site your own design without touching a lick of code.
Alright, let's do it.
What is a WordPress theme?
It's basically a skin for your website and alters the look, feel, and behavior of your WordPress website.  If WordPress is the like the framing in a house, then a Theme is the siding, windows, paint, cabinets, and flooring.
Do you need a theme?
Yes, you have to have a theme if you are using WordPress.  Wordpress comes with a couple of free themes that are actually pretty decent, too.  I still recommend searching for a premium theme that is more suited to what you want to do with your website.
I currently have one recommendation on where to go for a WordPress theme (affiliate link):
Elegant Themes has a several themes that work really well for a handyman business and they are also very reasonably priced.  This is where I got the theme I am currently using on my handyman business website.
WordPress Theme Considerations
Here are some things to consider when looking to purchase a theme for your handyman site.  Elegant Themes excells in all of these categories (otherwise I wouldn't recommend them).
Is it consistently updated?
The Internet is constantly changing and so are the browsers that you use to surf.  Just like with your computer, your website needs to be updated regularly and your theme is no exception.
A lot of the free themes aren't updated often if at all.  This puts your site at a higher risk of being attacked or not displaying correctly in a browser.  The last thing you want to do is spend hours setting up your website, just to have to change it a month down the road due to incompatibility issues.
SEO Features (Search Engine Optimization)
I'm all about getting leads from google searches.  If you are interested in getting leads from google, a WordPress theme that allows you to optimize your site for the search engines is essential.
Basic SEO is already built into Elegant Themes and you can easily improve it's capabilities by downloading a free plugin.
Ability to Customize
When you choose a theme for your WordPress website there is always a tradeoff between customizability and ease of use.  When a Theme is highly customizable, it usually has more of a learning curve.  Whereas a less customizable theme is pretty much ready to go straight out of the box.
Elegant Themes is a perfect balance between customizability and ease of use for new website builders.  When you install an Elegant Theme it is pretty much ready to go.  All you need to do is add content.  But, if you want to modify something or customize colors and other elements of the webpage, you can.  You just don't have to in order to have a pro looking webpage.
Additionally, when you sign up for an Elegant Themes account, you have access to 87 professionally designed themes to choose from.  So if you don't like the first theme you choose, you can just download another one at no additional cost.
Technical Support
Whatever theme you decide to install on your site, make sure you consider the quality of technical support available.  Website issues are a pain in the ass, so make sure you choose a reputable company.  If they are any good, they'll be able to help you through any issues and save you time and headaches.  Make sure they have a forum and in that forum that answer questions quickly.
Cost
For what you get, most premium themes are a bargain.  Especially if you consider how much you would have to pay for a custom website of the same quality.  You can usually expect to spend between $19 for a low end theme and up to $97 for a premium theme.
I highly recommend not going with a free theme unless it is exactly what you need, there are no strings attached, and you have considered everything I have mentioned above.
Elegant Themes is a steal at $69/year.  This is also a great deal because you get access to 87 themes allowing you to change between themes until you find the one you like.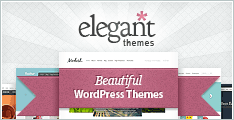 Design Considerations
There are no rules when it comes to website design.  Although, there are several features that have been proven to be effective for converting website visitors into customers.  I'll discuss a couple of them briefly and let you decide for yourself what you would like to implement.
Include Images
It's no secret that people like to look at images.  Make sure to include some on your website.  Furthermore, I recommend that at least one image on your homepage includes a person.  That person could be you, could be a happy customer, it could even be your girlfriend.
A person's face will always make a website more interesting to people.  It's in our nature.  Without images of people, websites can feel lonely, cold, and deserted.
Include images of people to help draw your customers in.
Include your Logo
Having a professional logo prominently displayed on your webpage says a lot about you as a business.  It tells customers that you are professional, have put thought into your business, and will most likely do the same while you are servicing them.
A poorly designed logo can have the opposite effect.  This is especially true for higher end clients that only want the best.
Display your contact info!
If there was only one peice of advice I could give you for your website, I would say that you need to have your phone number displayed clearly on your homepage.  I'd also recommend having your phone number on every other page.  It's usually a good idea to add your contact info to the header of your website so it's always in the same place and easy to find.
People are impatient and if they can't figure out how to contact you, they'll quickly leave your site and go to the next one.  Make it large and bold.  Also, highlight it with a color that stands out to help draw attention.
Testimonials or images of your work
You may consider having a couple images of jobs you've done displayed on your homepage or at least some testimonials.  Customers need to know that you do a good job.  Show them.
If you choose to show some of your work, only show quality pictures that clearly display the quality of work that you do.  It may take a while to get a few good pictures up, but that's ok.  Your website doesn't need to be perfect right off the bat.
Avoid fancy animations and complicated designs
When customers are searching for a handyman online, they aren't looking to be entertained.  They want to find a professional website that gains their trust, they want the contact info, and then they want to move on.  Animations such as little boxes that bounce onto the screen before you can click on anything are pointless.  You aren't selling web design, you are selling home repairs.
Also, overly complicated designs with too much information can also hurt.  Give the information that the customer needs to make a decision and keep it at that.  If you clutter the page with too much, they may not see the stuff you want them to see.  If a customer wants to know more, they can click through to other pages.  There's no need to include everything on the homepage.
The Next Step
If you've reached this point, great job!
Now that you have your website up and running, you've taken a huge step toward generating quality leads for years to come!  But, the works not over.
Now you need to drive targeted traffic to your website.  Unfortunately, just putting up a good website alone isn't going to bring you many customers.
Good news!  Due to high demand, I've created an entire video training series to help you with exactly that!  It's called Handyman Marketing Machine and in it, I will teach you everything you need to know from generating traffic to showing up on the first page of google.