Gaining new customers through Internet marketing is now easier than ever and is a great way to build your customer base.  But, the key to a profitable handyman business is to keep your customers loyal.  I've heard studies that say it is ten times more expensive to gain a new customer than to keep an existing one.  I don't think it's that extreme for a handyman business, but in my experience, it is much less effort to keep customers than to find new ones.
Gaining a customer's loyalty often comes down to simply providing excellent service and a quality finished product.  Through my experience, however, I've learned that it's not always that simple.  There are several other strategies that should be employed to maximize customer retention which is what I will highlight in this article.
In order to show the value of customer loyalty, I put together the below chart that depicts my monthly income from existing customers for the first 7 months of business.  By existing customers, I mean customers that hired me to come back after the initial service I provided.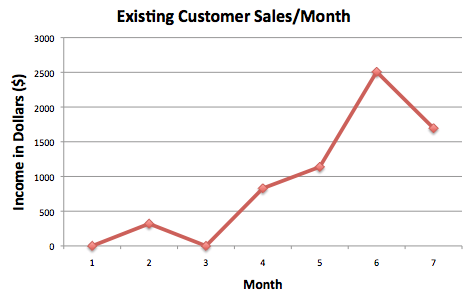 As you can see, my existing customer sales has increased significantly since initially getting started and is now the primary source of my income.  To see more on my income, check out my income reports.
Here are 5 tips you can use today that will not only increase the demand for your services, but also reduce the time you spend stressing to get new customers.
#1  Blow Their Minds With Quality
The first step to keeping your customers is the most obvious and also the most important.  Simply provide a quality service that meets or even exceeds their expectations.  Be friendly, listen to what they say, be interested, and most of all take pride in your work.
It's important to stand behind your work with each and every job.  Even when you quote way to low on a job, you should still put in the extra effort to make sure your work is held to a high standard.
#2  Communicate Your Services
Once you have your customer's attention, you should communicate why they should continue to hire you.  Compel them to keep you around by communicating the benefits they will receive from your services.
Since the handyman profession doesn't require a ton of specialized knowledge, one of the primary benefits you will be offering your customers is time.  If you look at the people around you, you'll see that almost everybody is extremely busy.  By hiring you to take care of their home repairs and maintenance, your customers will have more time to spend with their families, on hobbies, or however else they would like.  Be sure to remind them of this.
Another benefit may be that you are honest and trustworthy.  Explain how you like to build relationships with your customers based on trust.  You understand that it can be difficult to find help with home projects from honest people and that is where you come in.  You can then explain your pricing and be very transparent.  If you mark up materials, be sure to tell them you do and why it's necessary.
For some handymen or other service providers, this idea of selling yourself is very difficult.  Maybe they're afraid to sound like a sleezy salesmen, or just don't like the thought of self promotion.  In my opinion, you are doing a dis-service by not telling them what you have to offer.  After all, you can't expect them to just know.
Whatever the benefits of working with you are, be sure to communicate them to your customers and tell them why they should hire you again.  Provide them with the opportunity to hire you again.  The easier you make it, the more likely they are to call you back.
#3  The Power of Incentives
You see them everywhere – Punch cards at the sandwich shops, discounts for applying for a retailers credit card, membership clubs that provide discounts to members, and let's not forget my all time favorite – free 2-day shipping for Amazon Prime members.
These are all examples of incentives that very successful companies have employed to keep customers shopping with them.  Do you ever wonder why they provide these offers?  Because they work!  Not only do these incentives keep customers around, but they create raving fans that spread the word.
For example, I use Amazon Prime and think it is amazing.  I often shop for something on other websites, find what I like, and then buy it from Amazon so I can get the best price and 2-day free shipping.  This service keeps my business with them and provides me with so much value that I'm mentioning it to you on this blog.
So, why can't a handyman business do the same?  There are several different ways that you can employ this strategy with your one man service business.  You can provide a small discount on the next service,  make some punch cards, or I've even seen a handyman that provides a discount to customers that follow him on twitter or Facebook.
The bottom line is that you should be offering incentives.  They work.
#4  Get in Their Head and Stay There!
OK, that sounds a little scary, but it's not that bad.  What I mean is stay connected with your customers so they will always have you in mind the next time a home project comes about.
Depending on the size of your customer base, you may choose a different strategy for staying connected with your customers.  If you only have a few, a simple call to follow up on a job you did can go a really long way.  Or, if you were clever enough to get their e-mail address, you could send them an e-mail to either follow up or offer a discount or special of some sort.
Another option is to engage with them via social media.  If you can get them to like your Facebook page or follow you on Twitter, you can send them updates, promotional offers, and news on a regular basis.
My all time favorite, however, is an e-mail newsletter.  This is awesome because you can set it up and have it completely automated to send e-mails to all of your customers.  This one takes a little time upfront to setup, but it is extremely effective and requires very little effort to maintain.
#5  Make Sure The Price Is Right
In order to keep your customers coming back, it's important that you price your services accurately.  I'm not saying that you necessarily need to compete on price with local handymen, I am saying that you need to price based on the value that you are providing.
The number one rule for pricing in a handyman business is to stick to your quoted price.  If you quote a price and later realize that you way underbid the job, just take it like a man.  It will be your loss in the short run, but if you tack on fees to compensate for your time, it will be your loss in the long run because you just lost your customer's trust and future business.
You also need to make it worth your time.  If you continuously undersell yourself, you probably won't be in business to provide a service for long.  You're actually doing a dis-service to your customer by charging them too little.  Remember, they want your services and are willing to pay for them.  If you don't charge enough to stay in business and provide the level of service they want, you won't be able to provide the service in the future.
I think pricing services accurately is one of the most difficult parts about owning a handyman business.  It takes a lot of time to develope a pricing strategy that works for your specific business.  The important thing is that you continue to test different strategies until you find the one that resonates with customers and provides you with the income you need to thrive.
So, it's time to take some action and start using at least some of these strategies.  Try them out and let me know how they work for you by leaving a comment below.