I was talking to my brother last week and he mentioned a business idea that he had. He was thinking of starting a lawn care business.
Naturally, just like anybody who's never started a business, he has certain beliefs and ideas on how to get one going. Some of them really good, and some of them all too common mistakes.
One thing he said in particular that really popped out to me was that the way he figured it, he could charge just a little less than the other lawn care companies, and as a result, get a flood customers to jumpstart his business.
Basically, he was going to use low prices as his marketing strategy.
Now, I love my brother. He's a great guy and he's one of the smarter people I know. But dammit, this is one of the dumbest ways to approach business.
And I'm not writing this article to call out my brother. I'm writing it because I see this mistake made all the time, with almost every new handyman, consultant, freelancer, or anybody else offering a service as a business. (All of these businesses are surprisingly similar by the way.)
For some reason, everybody who wants to start a business thinks that pricing is the best marketing strategy. I don't know where this comes from. Maybe from huge companies like Wal-Mart, Home Depot, or Costco – all companies that were built on low prices.
Or, maybe from the endless commercials advertising discounts or specials to bring people in – whether for tacos or t-shirt.
I don't know what it is, but it's convinced us as a society that pricing is the best marketing strategy. And, when you're selling the same shit as everybody else, then low-prices can be a great strategy if you can make it work. But for 99% of businesses, it's a terrible idea that will guarantee you make less money.
Here's Why Underbidding Your Competitors Is Dumb
#1 – You probably aren't more efficient
There's only one way to make a solid profit and charge less than the competition and that's to have a breakthrough in efficiency. Unless you've figured out a way to provide the same service with fewer resources (time, money, tools, materials, people), then charging less only means one thing – making less. And since you're just getting started, you're probably far less efficient than the competition is, which means even less money.
Amazon can offer 2-day free shipping because they've got a huge infrastructure and ship a ton of packages.
Wal-Mart can sell a gallon of Vinegar for a dollar because they move so much volume that they get special pricing from vendors and only need to make a few cents per product to generate billions in profits.
You and I? We're just regular dudes with a garage full of tools and knack for fixing things.
#2 – Money isn't the only factor customers consider
If every handyman offered the same exact service, showed up on time, was equally trustworthy, and did an impeccable work, then price would start to become more important. But you and I both know that's not the case.
And, as a result, pricing isn't even close to the only thing customers consider. It's not even the main thing (at least not for the good customers). Sure, it will have an effect with certain customers, but that doesn't matter. Don't design your business around the low-ballers, design it around the people who are willing to pay for quality and convenience.
I can't tell you how many times I get e-mails from my readers telling me that they raised their rates after reading my pricing guide and are busier than ever.
#3 – Math
If you take a second to do the math, you'll be amazed at how even a small increase in your rates leads to a huge increase in profit.
For example, if you currently average about $50/hr for your services, then by raising your rates to $70/hr, you would DOUBLE your profit. $20/hr more, and your income doubles.
How would that impact your lifestyle?
Let's say you are charging even less, for example $25/hr. You would only need to increase your rates by $15 to 40/hr to double your profit.
And the opposite is true as well. A small decrease in your rates has a huge negative impact on your profit. Why? Because no matter how much you charge, the cost of doing business remains about the same.
That means charging the customers just a little bit more makes you way more money. And when you do that, you can offer a better service, not work so damn much, and maybe even enjoy some life.
Stop Guessing and Start Profiting
Here's the deal.
The handyman business, the lawn care business, the plumbing business, and just about every other home service business are all PROVEN business models. Thousands of others have already figured things out the hard way.
Are there still improvements to make? Yep, there always are. But do you really think that you are going to figure them out first try?
Probably not. So instead, save yourself some time and frustration. Follow a proven system that works, sidestep the common pitfalls, and get straight to making money.
Learn The Easiest Strategy For Instantly Boosting Your Bottom Line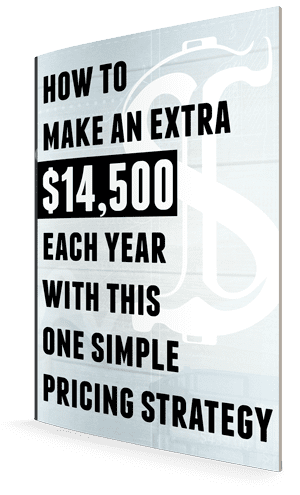 Get this FREE PDF guide that reveals a simple, proven strategy for boosting your profits (without working more hours).