Are you a handyman, contractor, or plumber who is trying to get more customers?
If so, it's about time you optimized your Google My Business Profile and start taking full advantage of the free and effective marketing tool.
When I first started my handyman business three years ago, I set up a Google Places (now called Google My Business) profile, and within a couple of days I was already receiving leads from it.  Since, it has helped me generate many leads and continues to play a significant role in my online marketing strategy.
I love tools like this because they help lower the barrier of entry to get started as a service pro.  In this article, I'll share how you can use this free tool to grow your business.
What is Google My Business?
Put simply, it's a way to help customers find you.
Formerly known as Google Places, Google My Business is Google's online directory of businesses that they use to connect customers with local service providers like you.  It's the platform you need to sign up for to have your business show up on Google Maps, Google Search, and Google Earth.  It does much more than that, but for simplicity sake, I'll stop there.
Why Should You Care?
You probably already know that online marketing is the best way to generate leads for a small contractor or handyman.  If you didn't, now you do.  Google My Business is a key component of any good online marketing strategy.
Not only can it help generate leads on it's own, optimizing your profile is an important part of SEO for your actual website.
Given the fact that it's free to sign up and can have a tremendous impact on whether or not your customers can even find you, there's no reason to not take advantage of this tool.  Even if you don't have a website, you should at a minimum have a Google My Business profile.  It's really a requirement for local search optimization.
How To Setup Your Profile To Maximize Leads
To get started optimizing or setting up your free profile, click here to go to Google My Business.  Then, follow the steps below and implement them as you read them.
(I am not affiliated with Google and do not get anything for referring you.  I just know it's an effective marketing strategy.)
Step #1:  Business Name
Pretty straight forward here, simply enter your full business name.  However, it's important to ensure the accuracy and consistency of your business name.  For example, if I was setting up a profile for this website, I would input Handyman Startup LLC (my licensed business name).  I may decide to NOT include the LLC, and that's fine, but the important thing is that I keep this consistent across all online directories.
Step #2:  Address and Service Area
Enter your address.  Again, very simple, just make sure it's accurate.  I recommend getting a business mailbox if you operate from home. (here's why)
The next part is to enter your service area.  Here is where you have the ability to optimize for your situation.
If you are just getting started and are willing to travel all over town for jobs, then you can simply setup a large radius from your mailing address as your service area.  This way you will have more potential business coming your way.
However, if you don't want to travel all over town, or if you only want to target specific areas (which I recommend), then you should enter specific zip codes as your service area.  That way your listing will only come up for customers in the specific areas you want to serve.
If you are operating out of your home like I do, you'll want to uncheck the box that says "I also serve customers at my business address."  That way customers aren't showing up at mailbox expecting a showroom!  Trust me, this happens.
Step #3:  Contact Info
Again, very simple.  Hopefully you have a website setup so you can enter the URL of your website.  This is important to help the SEO of your business website.  If you don't have a website, you'll definitely want to build one in the near future and add it in here.
For your e-mail address, you will ideally have something that looks like this: Dan@yourwebsiteurl.com.  Using your gmail or yahoo e-mail account doesn't look very professional.
Step #4:  Categories
Google uses this to help determine which search results you should come up for.  The more categories you can list, the more chances you have of showing up.  For example, if you are a handyman and also a kitchen and bathroom remodeler, then you will want to list the following categories:  Handyman, Bathroom Remodel, Kitchen Remodeler.  Just make sure to pick your primary service as your primary category.
Don't worry if only one category fits what you do.  For me, Handyman was the only category that fit.  But that's totally fine because that's a great category.
Step #5:  Business Hours
If you are hungry for leads and really trying to grow your business, then I would recommend having business hours 7 days a week.  Even if you don't work on nights and weekends, you can still take phone calls and setup appointments any day of the week.
However, once you get busy having the phone ringing everyday may get annoying.  If this is the case, you can reduce your business hours to only times when you actually want the phone to ring.  This is a nice feature and even though It won't completely eliminate phone calls on off hours, it's a good start.
Step #6:  Write an Awesome Introduction
Spend some time on this one.  You will need to describe who you are as a business, the services you offer, and provide some compelling reasons for the customer to hire you.  Additionally, you're going to want to appeal to the search engines themselves.
Here are some quick tips to help you achieve all of this:
Include keywords for your main services that you offer.  Some common examples for a handyman would be "faucet replacement", "ceiling fan installation", or "TV Wall Mount Installation."  This will help you rank higher in the search results for these specific services.  Just don't go listing everything you do because that never works.  Focus on your main gigs.
Focus on the benefits of working with you, NOT what you do.  I know I just said to include keywords, but you're main focus is to get the customer to pick up the phone and call you instead of the next guy.  What makes you unique or better than the competition?  Anybody can install a ceiling fan, but not everybody has "award winning service" or a "5 year warranty."  Try to get the customer to picture how much better their life will be once they hire you.
Say what you need to say, but keep it short.  The more there is to read, the less likely somebody will actually read it.
Once you write this, I would recommend having somebody else read it.  Ideally somebody with some copywriting or marketing experience.
Step #7:  Add Photos
Photos of you and your work not only build trust with customers, but they help you to rank higher in the search engines.  But, just any old picture isn't going to work.  Just like with anything else, quality matters.  Don't post poorly lit pictures of your projects because even if the quality of the work is great, the customer is going to judge it by how it looks in the picture.  You want to make your business seem attractive.
Choose only well lit pictures that put your company in a good light.  Even if you are the best handyman in the world, it's not going to matter if you can't communicate that to a potential customer.  Don't have any good pictures?  Go get some!  I just use my iPhone and it takes great pictures.
Step #8:  Reviews, Reviews, Reviews
Online reviews are like word of mouth on steroids.  Not only do they build tremendous trust with your customers, but they help you to get found in the first place.
This is likely the most important factor for optimizing your profile and generating leads.  The more and better reviews you have, the higher you will rank in the Google Maps.  Of course other factors are considered, but reviews carry a lot of weight in google's search algorithm.
Just like any other search engine, Google is in the business of delivering the best results to the internet user.  They want people coming back and using their service again and again.  So, they crowdsource reviews to help them do that.  Gathering reviews from customers is the best way for Google to determine who are the good service providers and who should be buried on page 10 of the search results.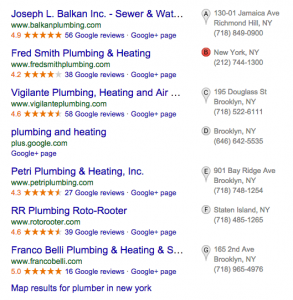 This is a picture of the Google Maps results for the keyword "Plumber in New York."  AS you can see, all of the listing have several online reviews.  Also, do you see how 6 out of the 7 listings have the orange stars?  That means that those business have at least 5 reviews on Google itself.
Another thing to note is that Google pulls reviews from all kinds of sites like Yahoo, Whodoyou.com, Home Advisor, and several others.  So, it's very important to manage these reviews.
With that said, you're going to want to put some effort into soliciting positive reviews.  If you go above and beyond, some customers will just automatically leave a great review.  But, these people are few and far between.  You'll need to put some effort into mentioning it at the end of every job and even in follow up e-mails.  It might seem like a pain in the ass to deal with, but it can have a tremendous impact on how busy you are.
Some Final Words
Google My Business is a powerful tool that every home service provider should have optimized.  It's really a must have if you are serious about getting customers.  That being said, you'd be surprised at how many handymen don't utilize this tool.
So, if you are just getting started, go and setup your profile today.  If you haven't logged in for a while, I recommend logging in to update your profile, update pictures, and make sure you're profile is 100% complete.
And again, this is just part of a good online presence.  To gain access to a complete video series that walks you through setting up an online presence that really kicks ass for your business, click here.