Welcome to my May 2013 monthly income report!  I've been writing these reports each month since I started my business and this marks my 18th month in business as a handyman.  1.5 years baby!
For those of you that enjoy my podcast, good news!  This month, you can listen to my monthly report as I've featured it on the Handyman Startup Podcast.  You can find it in the itunes store or listen to it directly from this page (bottom of page).  Enjoy, and don't forget to subscribe and leave a review!
In these reports I share my income for each month, how I made that money, how much it cost to make that money, and anything interesting that happened along the way.  I also share tips to help you dominate the home service industry.
If you are first time reader of the blog, I'm not rich (yet :)).  In fact, this is my first business and I still have a lot to learn.  However, I've successfully created an income stream that supports my lifestyle doing something that I enjoy and have complete freedom over.    I used to work as a mechanical engineer and absolutely hated what I did.  Somehow, I mustered up the courage to quit and start something on my own.  It was the best career decision I've ever made.  Now, I'd like to help you create the same level of freedom that I've created. 
May was an awesome month for my handyman business.  I continued to grow my client list despite the fact that I limited my schedule to only 3 days a week and have put zero effort into advertising in the last several months.  Not only did I gain customers, but I was more profitable than I have been since January of this year.  Old customers that I thought I'd lost were even calling me for more service.
Schedule Upgrade – Part 2
I'm really exciting about this…
In last month's income report, I discussed limiting my workdays to only 3 days a week.  I did this so I could pack my schedule into less days giving me more time to work on this website and a product that I'm working on.  My goal was to only schedule customers on Monday through Wednesday while answering the phone the rest of the week.  Now that I've been doing this for over a month, I'd like to share my results, which are pretty awesome.
Previously, I'd been scheduling jobs throughout the week and even work an occasional weekend.  When I did this, I'd leave a ton of time in between jobs just in case one of my jobs ended up taking longer.  Additionally, I would usually schedule one job a day until I filled up a week and then start stacking jobs up once I had a job for each day booked.  This naturally led to a lot of downtime in between jobs where I wasn't making money or doing anything else productive.  I was wasting a LOT of time.
Now, with my new schedule, I only schedule jobs Mon-Wed and pack the jobs much closer together.  This takes a little more finesse to avoid scheduling mis-haps, but it's way more efficient.  I've scheduled up to 5 customer in a single day so far – a significant increase over the the 2 I'd have scheduled before.  Take a look at the pictures below to see the difference between the two schedules.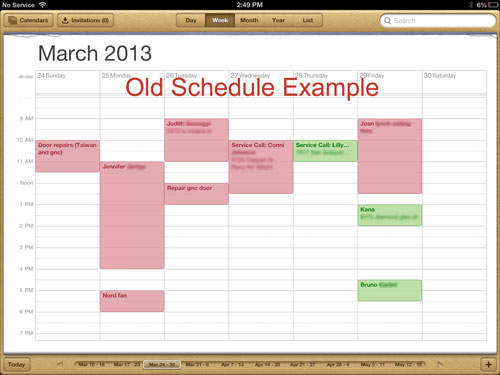 Example of a weeks schedule using my old scheduling method. (16.5 Billable Hours)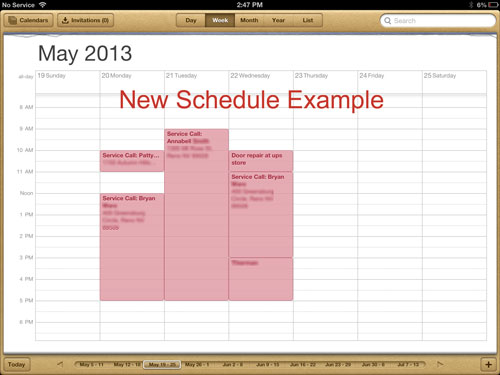 A weeks schedule using my new method. (21 Billable Hours)
As you can see, my old scheduling method wasted a lot of time in between jobs and took up the entire week.  My new method of scheduling doesn't waste much time between jobs and packs the same amount of work into just three days!  So I've managed to work less days and make just as much money.
Another benefit of this is that I'm now consistently scheduled out at least one week.  That means I know exactly what I'm doing for the entire next week and allows me to make fewer trips to Home Depot.  If I do everything right and plan accordingly, this could reduce my trips to the hardware store by half.
Sound enticing?  Why not apply this to your business and have more free time to spend doing other things you enjoy?
It's The Busy Season
Spring is THE time for home improvement projects.  Just go to Home Depot next Saturday and you'll see what I mean.
With my handyman business it was no different.  Sometimes it felt like I couldn't get away from the phone for 5 minutes without it ringing.  Since I'm only working 3 days a week, I ended up turning down a lot of business.  In fact, I could have easily done another 2 to 3 grand in work if I was as hungry as I was last year.
While constantly answering the phone can get annoying at times, there are some good side effects of being too busy.
One, I could be much more selective about jobs.  If a customer lived too far away or was asking for work that I don't like to do, I would just turn them down.  I'd either say that I didn't service their area or that I didn't do that kind of work.  Existing customers are an exception to this, however.  If a customer is willing to hire me over and over, I'll do my best to help them whenever I can.
Secondly, I could bid a little higher on jobs without having to worry about losing the business.  If I didn't get a job, I was sure I could fill my time with another.  If I did get the job, I made good money doing it.
Last year, I also did very well in the month of May.  Even though it was only my 6th month in business, I was able to bring in $5,300.  It had to work a whole lot more than I do now to get make that, but I was still able to make really good money because there is so much business during spring time.
Times may be good now, but…
Don't Get Too Cocky
Even though things are going awesome right now, I can't let myself get too confident.
When business is going this good, it's really easy to think you have everything figured out and that it will always be this way.  Just like when things are really slow and you wonder if they'll ever pick up.  Like I've said before, it's a roller coaster of emotional highs and lows.
And just like not letting the slow times get to you, it's also important not to get too cocky when business is flourishing.  This could lead to getting sloppy with customer service or not treating clients the way they should be treated.  This has happened to me in the past and trust me, I regretted it during the slower periods.
I've found that if somebody is your ideal client, you should do whatever you can to service them to a high standard.  But, this doesn't mean you should serve everybody.  Wasting your time on the wrong customers will lead to failure just as fast as not treating the good clients well.
Either way, it's important to realize that there are other people that are willing and able to swoop in and take your best clients.  No matter how busy you are, always provide the same quality of service and treat everyone with respect.
Income and Expenses
Income:
Existing Customers:  $2,457.25

Search Engines:  $2,640
Referrals:  $489
Expenses:
Direct Job Costs: $999.35

Phone:  $69.82
Mileage:  $245.78
Insurance:  $94
Tools:  $39.62
Total Income:          $5,586.25
Total Expenses:        $1448.57
Net Profit:            $4,137.68  (last month:  $2,882.19)
Billable Hours:  70.5
Income from Labor:  $4,486.97
Average Hourly Rate:  $63.64
I'm not sure it can be any more ideal than this (other than making more per hour).  I was able to stick to my 3 day a week schedule and still have the second most profitable month of the year.
Sure, I could have made more money if I work all 5 days, but like I've said a thousand times before, money is not my only goal.  I can always make more money, time is the one thing I can't make more of.
Some of the numbers that I find really interesting here are my income numbers compared to my vehicle mileage.  By reducing the number of days I work, It looks like I've also been able to reduce the ratio between driving and working.  Not really sure how, but the numbers don't lie.  This was the cheapest month in terms of vehicle mileage out of the whole year.
In addition to the fact that packing jobs closer together is more efficient, I think that turning down jobs that were too far away was a contributor to the decrease in driving.  Also, I turned down jobs that seems like they were a waste of time (even if they were close) instead of driving out, quoting, and then not getting the job.
Overall, I think the change I've made to my schedule was a great choice and I plan to continue with this schedule to see how it works out.
If you'd like to learn even more about my business, check out my 2012 Yearly Report.
Monthly Goals
This month I met both of my goals – To maintain a $60/hour rate and to only work 3 days a week.  Feels good when it works out that way.
But, how can I make this business even better and more enjoyable?
I'm thinking the next step is to limit my service area for new clients.  I figure that by making my service area smaller and smaller I will save a ton of time and will be more profitable.  I'll always continue to service my existing clients even if they live outside of that area, but maybe I can filter out new clients with this method?  I guess it's worth a try.
I don't think it's a smart move to just jump into this big of a change head first.  So, my goal for this month is to investigate the possibility.
What do you think?