Welcome to my January 2013 Monthly Report!  I'm now well into my second year in business as a handyman and still have a ton of information to share.
February 1st was the one year anniversary of the Handyman Startup Blog!  Exactly one year ago on Feb. 1st, I wrote my first blog post:  Lifestyle Design and Choosing to Start a Handyman Business.  Time has really flown by!
I think things have come a long way since then and I'm really happy with the progress of the blog and my handyman business.  I wanted to extend my thanks to all of my readers for making the Handyman Startup blog what it is today.  If it wasn't for your e-mails, comments, and questions, I would have given up a long time ago.  Your successes provide me the inspiration to keep writing.
In 2013, I have big plans for Handyman Startup.  I'm getting ready to release my 2012 Yearly Report very soon so keep an eye out for that.  In my Yearly Report, I plan on stepping it up a notch.  It's going to be packed with the most important lessons I learned in my first year along with a more in depth look at my financials.  By plotting my income on graphs it has opened my eyes to some very interesting insights about my business.  There going to be far more detail than anything I have offered to date.  It's also going to be the first paid content on the site and it will not disappoint.  I can't wait to share it with you!
In addition to my Yearly Report, I've been working on a product that many of you have requested.  That's all I'm going to say for now, but there will be more info in the near future.
Starting off the year with a bang
January was an incredible month for my handyman business and I have record income and profits to show from it.  It was a 5 week month and was busy the entire time.  I figured that after the amazing month I had in Dec. of 2012 things would have slowed down, but this wasn't the case.  I was booked out 3-10 days at all times.  I'm hoping this will set the stage for an incredible year.
Letting them down gently
Being really busy is a new experience for me and there are certainly some benefits that come with it.  For one, I make more money.  That's nice, but the thing I like the most is that I don't have to deal with customers I don't like.
Well, easier said than done.  I can't just be rude to customers I don't like, my reputation is on the line.  As badly as I want to just ignore these customers, it's bad for business.  So, I need to come up with a way of convincing customers that I'm not the right handyman for them without making myself look bad or pissing them off.
Recently, I came across one of the bad ones.  When I picked up my phone, I instantly realized I wasn't going to work well with this guy.  Let's call him Mo.
Mo called me up and said "I have a rental property and I'm looking for somebody to do some repairs for me.  Can you help me?"
So I said, "Absolutely, that's what I do."  But I was really thinking "Oh great, a property owner, he's going to be looking for cheap services."  After talking to the guy a while, he asked me to meet him at his property so he could show me the repairs he needed.
Upon arriving to the property,  I shook Mo's hand and was immediately unimpressed.  It was like shaking a baby's hand or a wet noodle.  Then after showing me the repairs he wanted and bragging about how many properties he has, he says "You're going to give me good price, right?"
Side note:  When somebody says they are going to give you a bunch of work or recommend you to all of their friends before you bill them, they are usually just trying to get a deal.  I typically don't do discounts and I never give a discount when somebody says this. 
Annoyed, I responded "I'll give you a good price when you give me a lot of business."  The conversation continued and after 10 painful minutes of dealing with this guy I finally decided to close the conversation and let him know I'll get back to him with a quote.
Of course, he wants the quote by the end of the day which I didn't do.  So the next morning I get a call from Mo reminding me to send him the quote.  Man, this guy is getting on my nerves.
So I came up with a strategy.  I was just going to quote the job about 50% higher than I normally would.  I figured if he hired me, I'd  at least make good money.  If he thought I was too expensive, he probably wouldn't call me again.  Win-Win.
Sorry, the story doesn't end there.  Mo gave me another call asking why the price was so high.  He then asked if he could purchase the parts himself and just have me do the labor.  Wow. Worst. Customer. Ever.  Of course I told him no.  So he finally got off the phone and said he would call me back with a decision.  Hopefully I will never hear from him again.
I'm not sure if bidding high is the best way to shoe away customers I don't like and I'd prefer not to do it in the future.  I'm not out to rip people off, but I also don't want to work with time wasting, rude people.
What do you think?  How should I have dealt with Mo?  Do you agree that simply pricing higher than normal is a good way to filter your clients?  If not, how else should I have gone about getting rid of this guy?  Let me know in the comments below.
CrossFit Trade Agreement Update
Back in February 2012's income report, I mentioned that I set up a trade agreement with the CrossFit gym that I go to.  In return for doing small maintenance and improvements, I get free access to the gym ($125/month value).
I approached the gym owner with this idea back in February because I wanted to help make the gym a better place.  After doing so, I realized that this was not only a great exchange of value for both of us, but it had marketing potential for my business.
The gym members would see improvements that were going on and ask who did them.  This would help brand me as a handy guy.  Also, as long as I did good work and was easy to work with, I was also likely to get several recommendations by the gym owner.
It took a while to work out that way, but I am starting to see results.  So far, I've had two of the gym members request work from me, and have even received a couple of bigger jobs from the gym owner on top of our trade agreement.
Additionally, one of the members just purchased a home and needs a bunch of stuff done and she asked me to help her with them.  Awesome!
Although unintentional, Marketing myself this way has been fulfilling and profitable.  I was able to build a relationship with some good people and build my business in the process.
If you have the opportunity to trade services with a local business, I highly recommend doing it.  It can be a great way for a new handyman business to gain some new business, gain some experience, and build a few relationships.
Even if you haven't started your business yet, lending a hand to a local business could be a great way to get your feet wet.
Featured Service:  Roof Repair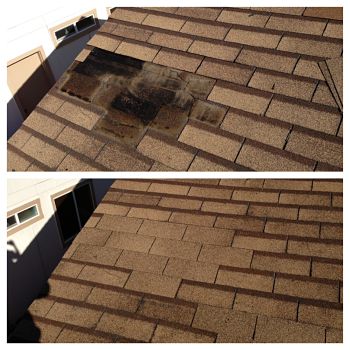 Roof repairs are a surprisingly easy and profitable service that you can offer with your handyman business.  The above image shows a roof repair that I completed in January.  There were about 5 or 6  other spots similar to what is shown in the image and I charged the customer $300.  The materials cost me about $25.
I like roof repairs because I don't need a lot of tools and their usually easy to do.  Additionally, customers place a higher value on the repair because they don't want to get up on the roof and they think it's difficult.  This makes it easier to make a profit.
The only tools you need are a ladder, hammer, Pry Bar
, galvanized roofing nails, caulking gun, and some roof adhesive.
The area shown in the image above probably took me about 20 minutes to repair (this was only part of the repair).  There are some things to consider when offering this type of service:
Get on the roof and inspect the damage before quoting.  Often times you will only see one or two shingles gone when there are actually several others that can't be seen from the ground.  Or, the tar paper could be in bad shape and in need of repair.  An easy fix you thought was only going to take 30 minutes could end up taking 2-3 hours.

Let the customer know in advance that the shingles aren't going to match exactly.  Roofing manufacturers change their products regularly and the chances of finding an exact match are slim. 

Glue down the replaced shingles and the old shingles directly above with a dab of roof adhesive on each corner to prevent them from blowing off again.
 Income and Expenses
Income:
Return Customers: $4,846.26

Website:  $3,407.70
Truck:  $150
Referrals:  $120
Expenses:
Direct Job Costs:  $1989.26

Vehicle Mileage:  $546.92
Tools:  $324.68
Insurance:  $88.75
Office Supplies:  $127.09
Website:  $11.99
Angie's List:  $118.74
Work Gear: $222.95
Phone:  $69.82
Total Income:          $8,523.96
Total Expenses:       $3,500.20
Net Income:              $5,023.76 (last month:  $4,038.87)
Billable Hours:                104.75
Income From Labor:      $6287.39
Average Hourly Rate:     $60.02
Here are some number to get excited about!
Last month I had record income and profits and this month I totally blew that out of the water.  I increased my net income by over $1,000, a 25% increase over last month.
My expenses were much higher than normal as well.  Last month my total expenses were about $2100 and this month they increased by almost $1400.  This increase in expenses was caused by purchasing a lot of parts for jobs as well as other unusual costs.  I had to pay off the rest of my advertising with Angie's list,  I bought some new tools, and picked up some new work boots and gloves.  These three purchases account for almost $700 in additional expenses.
Taking a look at my hourly rate, I actually hit my goal of $60/hour right on the nose.  This is the highest average hourly rate I have achieved so far in my business in a single month.  Exciting stuff!
I was able to increase the amount of business I had and increase my hourly rate at the same time.  I would have never expected that to happen, especially since I stopped all advertising outside of my website as discussed in last month's report.
These numbers also boast record income generated by leads from my website.  I haven't made a single change to my website in over 2 months and it continues to bring me massive amounts of business.  If you are interested in building a website for your business just like I did, I put together a video course to help you out.  How to build a handyman business website.
February Goals
Goal #1:  Release my 2012 Yearly Report
My Yearly Report is going to be packed with incredible insight and inspiration and I'd like to release it soon.  It will also feature a detailed analysis of my income and expenses, laid out in tables and graphs.  It's going to be my most helpful content thus far.  I've been working hard on it for over a month and it's almost complete!
Goal #2:  $60/hour minimum average hourly rate.
I think this is a really solid hourly rate and it's proven to yield substantial profits.  I also find that keeping this hourly rate as a goal keeps me motivated.  It forces me to track my time and allows me to evaluate my pricing.  I highly recommend doing the same for your business.  It can be an eye opening experience!