Welcome to my December 2012 monthly report!  This is my thirteenth monthly report and also marks the end of my thirteenth month in business as a handyman.
For those of you that are new to the blog, I write these monthly reports each month.  In them, I detail how much money I made, marketing methods that worked for me, and any other insights that I believe to be helpful.  I also recently started included a featured service each month.
Be sure to leave a comment at the bottom of the post if you have any questions or just have something useful to say!
December was an awesome month and I have record profits to show for it.  This is really exciting considering that I took and entire week off for Christmas.  Most of my income was from existing customers, which is so much nicer than dealing with new customers.  It makes the business more enjoyable to have clients call for more work instead of having to constantly search for new leads.
This increase in return business has led me to make few changes as well…
Angie, please take me off your list.
In last month's income report, I talked about how I was going to quit advertising with Angie's list.  I've been paying 83 bucks a month to be listed #1 or #2 when somebody searches for a handyman in my area.
When I called to quit, my sales rep convinced me that I should give it one more shot.  She explaining that I just don't have enough reviews yet.  My competition has many more reviews than me and Angie's list customers like a lot of reviews.
"OK," I said.  "I'll give it one more month.  I'll see if I can get some more reviews and maybe some business."
If your not familiar with Angie's list, they also have the ability to "fetch" reviews.  If you send Angie's List your current list of customers, they will run that data against their database, and if you have worked for any of their customers, they will actually call those customers and take reviews over the phone.
The first time I did this a few months back, I got 3 reviews from the fetch program.  This time, I got zero.  I also have come to the realization that I am horrible at asking for reviews.  I don't know what it is, but I always forget.  Bottom line, getting reviews is more effort than it's worth to me, so I decided to give up.
The critical thing to understand with Angie's list is that if you don't have a lot of reviews and continue to pursue new reviews, you won't get much business.  I don't know about you, but maintaining reviews seems exhausting to me.  Especially when a good website can bring in the customers automatically.
So, I called them up and quit advertising with them.  I feel better already!  The downside is that I have to pay 1/3 of the remaining balance of my advertising contract which is a little over $100.
I'll be writing a more in depth analysis of Angie's list in the near future, so keep a look out for that if you want to know more.
Featured Service:  Fence Repairs
Advertising for fence repairs has worked very well for my handyman business.  It seems like fences are always blowing over in my city.
Early on in my business, I was ranked very high in google for the keyword "fence repairs."  This was a fluke thing that happened simply by me setting up a google places account.  I received several calls for fence repairs which helped me get through my first few months of business.  The work can be a little laborious, but when you're just getting started out, work is work!
Fence repairs are pretty simple, too.  Aside from fixing a gate every once in a while, the vast majority of fence repairs consist of replacing rotted out posts after a section of fence blows over.  (At least in my city.)
Here are some images of a recent fence repair I completed for a customer.
As you can see, the fence is missing a post that rotted out and blew over in the last wind storm.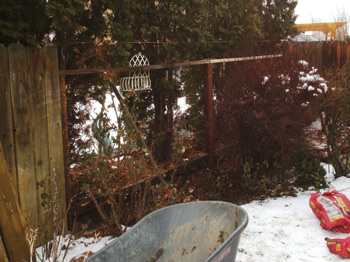 Here is the fence after I dug out the old post and installed a new post.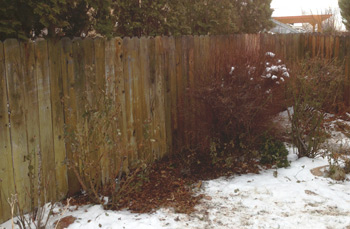 And here is the completed job.  I always use any wood that is in decent condition when doing a fence repair, but there is almost always a few broken fence pickets and 2 x 4s.
To replace a fence post as seen here, I usually charge about $300-$400 depending on several factors.  This price includes materials which usually run about $50.  I can usually bust out a fence repair in about 4-5 hours including shopping time.
Fixing fences isn't something I'd want to do everyday, but it can be a good way to fill in the gaps in your schedule.
Income and Expenses
Income:
Return Customers:  $4,809.76
Search Engines (website):  $696.00
Referrals:  $553
Craigslist:  $150
Expenses:
Direct Job Costs: $1,185.66
Phone:  $190
Mileage:  $361.86
Insurance:  $94
Angie's List:  $83.83
Bank Fees:  $9.90
Tools:  $119.14
Mailbox (6 months):  $126
Total Income:            $6208.76
Total Expenses:         $2,169.89
Net Profit:                   $4,038.87  (last month:  $1,829.12)
Billable Hours:           86.5
Income from Labor:  $4,726.69
Hourly Rate:                $54.64/hour
This is the most money I've made and the highest hourly rate I've had since starting my business.  I'm pretty excited about these numbers.  Especially since I didn't do very well last month.  On top of that, I took an entire week off and did absolutely no jobs.  I still answered the phone, but just told customers that my next availability was  in January.  I could have potentially had another $1,000 in profits if I would have worked the week of Christmas.
If you take a look at my income numbers, the majority of my business came from return customers.  Leads generated from my website came in second, and referrals came in a close third.
You may notice that HomeAdvisor isn't on the list.  This is because I put absolutely no effort into lead generation.  I turned off Home Advisor, put no effort into my website, and even deleted my craigslist ads.  The $150 from craigslist was a lead that I received in late November.
Last month I set a goal of $55/hour for billable hours.  Looks like I was just shy of this goal, but pretty damn close.  I can't complain about making $54/hour.  It's way better than the $25/hour that I originally charged.  By the way, charging $25/hour is NOT recommended even if you are just starting out.
I don't want to get too excited, but I'm hoping that I've reached the point in my business where word of mouth is going to start taking hold and I'll no longer need to worry about craigslist, Home Advisor, Angie's List, or any other lead generation method.
In fact, I'm planning on testing this.  I'm going to continue not advertising anywhere but my website.  Some people my think I'm an idiot and that I should get as much business as possible and hire employees as I grow.
But, that isn't why I started this business.  I don't want to manage employees and money is certainly not my only motivation.  I enjoy doing the work, not the office stuff.  Instead, I'd prefer to refine my skills and continue to grow my income by getting better at what I do.  Sometimes I like to go back and read my post about lifestyle design to remember why I do this.
Goals for January
Goal #1:  $60/hour minimum average hourly rate.
In November I went for $50, in December I went for $55, $60/hour just makes sense.  It's definitely going to be a challenge, but I think I can make it happen.  I'm getting a lot better at estimating jobs.  Also, I'm more handy than when I started.  I can now approach most jobs with confidence instead of figuring things out as I go.  This experience allows me to communicate more effectively with customers and helps me demand a higher rate for my services.
Goodbye 2012, Hello 2013
2012 was an amazing year and what a great way to close out the year.  It was incredible to set out on an adventure starting my own handyman business and bring you along on the ride.
I sincerely hope that you enjoyed it, and even more importantly, I hope I was able to offer you at least one small piece of information that moved you closer to your goals.  Whether you are thinking about starting a handyman business, just getting started, or a seasoned vet, I hope I have offered you something of value.
Looking forward to 2013, I will continue to tell my story and provide you with insightful information about my handyman business.  In fact, I have some big plans for 2013 that I'm excited to share with you.  So be sure to stick around!