ARE YOU READY TO GROW YOUR HANDYMAN BUSINESS?
There are hundreds of people in your area looking for a handyman. Skills that you already have are in high demand. Whether or not you can start or grow a profitable handyman business isn't the question.
The real question is are you going to take advantage of the opportunity?
Armed with proven strategies, counter-intuitive insights, and the right mindset, you can make a killing as a handyman – and I can help you get there.
I've dedicated the last 5 years learning, testing, and interviewing to learn the secrets of running a highly profitable handyman business.
I've helped thousands all over the world escape their jobs and grow businesses they love. I've even done it myself.
Now I'd like to help you.
So browse the list of products below, choose the one that fits your situation, and dive in. You have nothing to lose with my 30 Day satisfaction guarantee.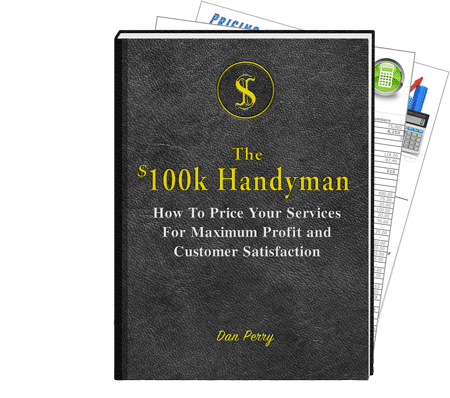 Learn How To Price Your Services for Maximum Profit and Customer Satisfaction
Pricing is challenging. It's difficult to know if your price is justified.  Are you charging too much?  Are you selling yourself short?  In this guide, I will bring clarity to your pricing so you no longer ask these questions.
You'll KNOW your pricing is justified.
In this guide, I demonstrate how to price your handyman services for both maximum profitability and maximum customer satisfaction. By doing so, I'll show you how to price your services so it's a win-win for you and your clients.
You'll no longer need to guess on pricing or experience anxiety while talking money with customers – and you'll definitely avoid the pricing mistakes that cost most handymen thousands of dollars every month!

Learn how to attract high-paying customers and fill your schedule with the most profitable jobs.
Handyman Marketing Machine is an in-depth video training course where I share my complete system for attracting high paying customers consistently – and on autopilot.
There's no secret that online marketing is the way of the future, and in this course I help you leverage it so you can charge more for your services and consistently fill your schedule with the most profitable jobs (without spend all of your time networking or handing out flyers).
Whether you are looking to get started – or are looking to make your business more profitable – this training will get you the customers you need to grow your business and personal freedom.
Learn how to start a PROFITABLE handyman business in this comprehensive step-by-step guide.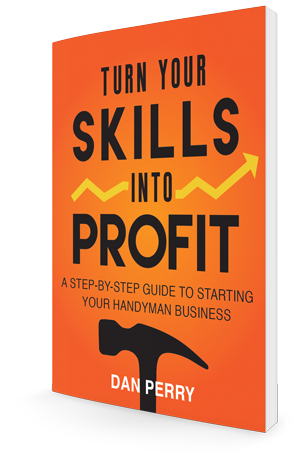 Starting a business doesn't have to be overwhelming or risky.
Armed with this proven roadmap to handyman business success, you can quickly and efficiently start making cash with your home repair skills (with as little as 5 hours per week).
It's all step-by-step, so no more having to wade through confusing advice. You'll know exactly what to focus on at each stage of business growth.
That means faster results, fewer mistakes, and a startup experience you can actually enjoy. Your friends and family will be amazed at your business skills when they see your results.