This is where building a website for your handyman business starts to get fun.
Now that you have purchased web hosting and registered a domain name, it's time to install WordPress on your website.
This is an exciting step because when you're done you'll have a fully functional website up and running!  It's not going to be the prettiest website on the web (yet), but it's a step in the right direction.
What is WordPress?
WordPress is an open sourced content management system (CMS) commonly used for blogs (like the one you're currently reading) and millions of other websites.  Some think that it's just a blogging platform, but this is not true.  Wordpress is now commonly used for just about any type of website.
WordPress is to a website as joists, studs and rafters are to a home.  It's the framework of your website.  Just like the framing in a house, it provides a structure for you to attach your website content.  It's the structure that allows you to fully customize the look, feel, and behavior of your site.
What does WordPress do for you?
WordPress gives even the most novice website developer a means of easily producing a professional website with almost no limitations.  It's not just a CMS for newbies, either.  Professionals use it all across the world.
Why should you install WordPress?
Because it's awesome, that's why.  Not only is it free but it gives you amazing capabilities.  Here are some of the main reasons:
Themes – A theme is essentially a design skin for WordPress.  This makes designing a professional website a matter of downloading a theme and installing it on your website.  The best part is that there are thousands of themes to choose from so you are bound to find one that works for your website.
Plugins – Plugins are to WordPress as apps are to smartphones.  Want your website to have an interactive form that allows your customers to request a quote through your website?  There's a plugin for that.  Want to have your website automatically backup?  There's a plugin for that.  The cool thing is that most of these are free, too.
Blogging Platform – It's no secret that blogging is one of the best ways to get targeted traffic to your website.  Since WordPress was originally designed for blogging, it gives you all the best features of a good blog.  However, your website does not need to look like a blog just because you use WordPress.
I'll go into more about these features later, but I just wanted to demonstrate the power of WordPress.
How to Install Wordpress
Installing WordPress is really easy, especially if you are hosting your website with Bluehost as I recommended in the previous tutorial.
First, log into your Bluehost account.  Scroll down and you will see a WordPress icon as shown in the image below.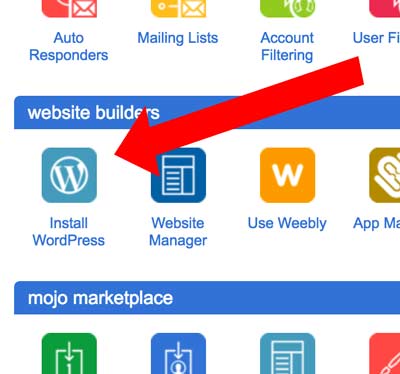 Click it!  Then, you'll come to a page that gives you the option to install WordPress yourself or have Bluehost do it.
This is easy, so go ahead and click install under the "Do it yourself" box as shown below.

You'll then be taken to a page where you will choose which domain to install WordPress. Choose the one that says http://www.yourdomain.com and then click check domain.
If the check doesn't work the first time – just try it again. It usually works the second time.
Your almost done!
On the next page just click that you agree to the terms and then install now.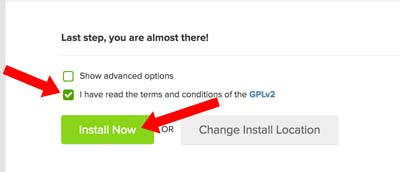 Congratulations! You have successfully installed WordPress! You can now visit your website by typing in the your domain name into the top of your web browser.
WordPress Initial Setup
Before you can edit your website, you'll need to login. When you installed WordPress, it automatically created a username and password for you and then e-mailed them to you.
Check your e-mail and get your username and password.
Now you are ready to login. To get to the login page, just go to your website and add a "/wp-admin" to the end of your url and hit enter.  For example, if your url was http://www.handyman.com you would type in http://www.handyman.com/wp-admin to reach the login page.
After you have logged in you will see a page that looks like this: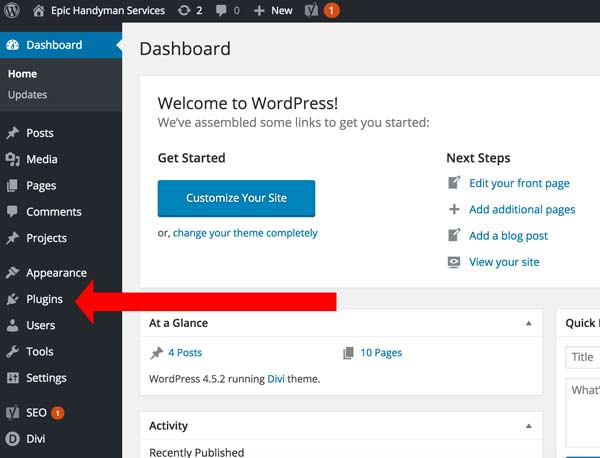 In the above image you can see the WordPress dashboard.  This is where will control every feature of your website.  On the left you will notice an intuitive menu that the red arrow is pointing to.
The first thing I would do is click on the "plugins" tab and then delete all of the existing plugins that were added automatically by Mojo.
Then, go through the items below to get things setup.
Posts
This is where you can add or edit blog posts that are going to be hosted on your website.  You don't need to do anything here for the initial setup as you can add blog posts later to help you get found in google.
Media
Clicking this tab in the menu will bring you to a page that allows you to upload images that you will use on your webpage.  There are other places that you can upload images as well for convenience, but this is where you can view all of your images and edit them if necessary.
Links
Don't worry about this section for now.
Pages
Here is where you can edit your static pages of your website.  Examples of static pages for a handyman website are the about page, featured services page, contact, or a home page.  I recommend that you set up the following pages as a minimum.  You can add more later as you feel necessary.
Services Offered
About
Contact
Comments
This is where you can approve, delete, or mark comments as spam.  You won't need to worry about this right away.
Appearance
As the title implies, this is where you will edit the look and functionality of your website.  I'll describe much more about this in the next blog post.
Plugins
Plugins are like apps for your smartphone, but for your website.  They are separate programs that can be used to enhance your experience with WordPress and there are thousands available to do just about anything you want.  I'll go over some plugins that I recommend in a future post.
Users
Here, you can add or edit users.  If you will be hiring a web designer, you may consider adding them as a user so they can edit your website.
Tools
This is where you can edit how certain plugins behave.  Don't worry to much about this right now.
Settings
For the sake of keeping this post short, I'm only going to cover the important settings that you should do right away.  I recommend going through all of the setting and if you have a question, leave it in the comments below.
General Settings
Site Title:  Set the site title to – Handyman In City, St | Your Business Name (of course put your city and state).
Tagline: Put your business slogan here or just describe your services briefly.
Permalinks:  Set this to "Post Name"
That's it!
Your site is officially up and running!  In the next post I'll discuss how to choose and install a WordPress theme for a high quality professional look.