Are you wondering how much you can make as a handyman?  In these monthly reports I share my struggles, marketing methods, lessons, and so much more.
These are a unique resource because I wrote them as I was starting my business when the lessons were fresh in my mind.
If you are new to the handyman business and want to get up to speed super fast, I highly recommend my 2012 Yearly Report. Lessons learned, marketing methods that work, and what to expect in your first year.  Click on the book to learn more.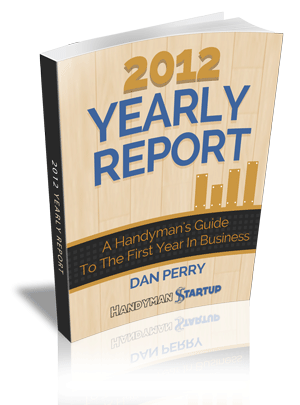 2013
My Monthly Report – December 2013
My Monthly Report – November 2013
My Monthly Report – October 2013
My Monthly Report – September 2013
My Monthly Report – August 2013
My Monthly Report – July 2013
My Monthly Report – June 2013
My Monthly Report – May 2013
My Monthly Report – April 2013
My Monthly Report – March 2013
My Monthly Report – February 2013
My Monthly Report – January 2013
2012
My Monthly Report – December 2012
My Monthly Report – November 2012
My Monthly Report – October 2012
My Monthly Report – September 2012
My Monthly Report – August 2012
My Monthly Report – July 2012
My Monthly Report – June 2012
My Monthly Report – May 2012
My Monthly Report – April 2012
My Monthly Report – March 2012
My Monthly Report – February 2012
My Monthly Report – January 2012
2011