Home Advisor PRO is a fast and easy way to get customers and grow your business. However, it's a controversial subject with contractors. Some businesses are experiencing massive success with the service while others trash talk it and describe it as a scam.
So who's right? And most importantly, should you use them to generate leads? That is the ultimate question I'll answer in this article.
I'm going to discuss the controversial issues surrounding Home Advisor as well as the pros and cons of using it.  I'll also share my personal experience I gained while growing my handyman business and some tips for maximizing ROI with the service formerly known as ServiceMagic.
Why the Controversy?
Issue #1: Lot's of complaints from other businesses
At the time of writing this article, they have over 1,200 customer complaints with the Better Business Bureau. Despite the fact that they have an A+ rating, that's still a lot of complaints.
(Side note: This article alone has received over 200 comments from local businesses about HA – 90% of which are pretty bad reviews. Feel free to scroll down and read them.)
Now, this doesn't necessarily bother me considering the fact they have been in business for so long. And, when you deal with as many customers as they do, you are going to have complaints.
Most of the complaints are about HA sending low quality leads and "scamming" well-meaning contractors. While there are some low quality leads for sure (I've experienced this myself), I think that a big source of the complaints is from businesses who can't close the sale. Home Advisor provides leads, not customers, and if a business doesn't follow best practices for turning leads into customers, then they'll likely waste a lot of money with little results.
A tool is only as good as the hand that's using it, after all.
Issue #2: Deceptive Marketing Practices (This is a BIG one)
If you decide to sign up for HA, be sure to read the fine print, because by signing up with them, you give them the rights to use your business name for marketing purposes such as directing links back their own site.
That means they can go out, create a bunch of profiles on online business directories in your business name, and send customers directly to Home Advisor, and then sell the leads to somebody else!
Several contractor's and handymen have found out the hard way (including myself). Not only does HA build links back to their own site in the small business's name, but they also list HA's phone number.
I couldn't believe it myself until I read their terms of service and then did a quick google of my business name. Sure enough, I found that my YP.com listing had all of my business information, but the wrong phone number. Upon dialing that number, I was connected with Home Advisor! Wow. Not only that, but they spelled my business name wrong. Not cool HA, not cool at all.
This is a pretty big issue for me and it definitely hurts Home Advisor's image in my eyes. Although it is clearly explained in their terms of service, this is not something they explained when I signed up. It's flat out deceptive.
However, this issue can me mitigated by simply doing some cleanup work online.  I'm actively seeking these listings out and changing them to reflect my business's correct information.
One thing I recommend doing before signing up for HA is creating your own online listings.  By doing so you reduce the risk of this happening to you.
Issue #3 – The Name Change
Home Advisor used to go by the name of Service Magic, but they changed it. Why?
Many say that it's to hide from their bad reputation. I mean, why else would you throw away years of building a well known brand?
Taken from the Home Advisor Website:  "We changed our name to reflect our commitment to being the #1 resource for home improvement tips, advice and connections."
I have to admit, it's a much better name and it will help them resonate with home owners. They are now branding themselves as an advisor which is more authoritative than just a magical service provider.
Whether or not they have a good reason to change their name, it still looks bad to those who have had a negative experience working with HA.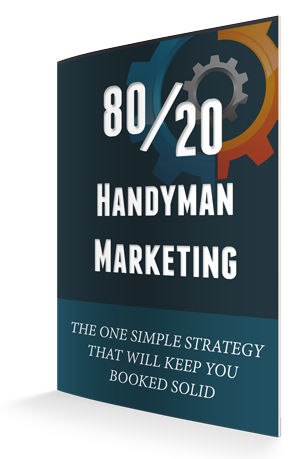 FREE REPORT: "80/20 Handyman Marketing"
Learn the simple strategy that will keep your schedule filled with profitable jobs all year long (without paying for expensive leads)
The Pros and Cons of Home Advisor
Pros
It's effective.  There's one major reason that HA is still in business and that's because it works. With more and more people turning to the web to find service providers, having a strong online presence is essential. Home Advisor has an incredibly strong web presence. 
Good for new businesses.  Before you can start generating customers from word of mouth, you need to actually have customers. HA allows you to leverage their brand to gain trust and get your first clients. It also allows you to reach customers that you otherwise wouldn't have the marketing abilities or funds to reach.
Easy to manage.  Once you've set up your account, it's very easy to manage. You can even turn your leads on and off whenever you choose. This allows you to only use the service when you are slow or trying to expand your business.
Cons
Giving up some rights to your brand.  In the terms of service, it clearly states that HA can use any information on your profile to direct links to their site.  This essentially allows them to use your name to promote their business.
Bad leads.  I've received several leads that were just people price shopping with no interest of actually hiring anybody.  Sometimes, leads won't even answer the phone. In some cases a refund will be granted, but I've still paid for several bad leads.
Can get expensive.  Leads for bigger jobs are expensive and often cost more than $50. However, for a handyman this isn't as much of an issue as we usually only sign up for small job leads.
Should You Use Home Advisor?
Here is the ultimate question, and the answer is that it depends
Personally, I believe it's effective and have personally had success using the service. In my first year of business, I spent $1,152 advertising with HA and gained $4,425 in business directly from leads received. Those numbers may sound small, but as a handyman, my average job size is just a few hundred dollars. The real value came from helping me build a client base from nothing while I worked on other, long term marketing strategies that I rely on now. The lifetime value of the customers I gained was much greater than just $4k as well.
However, I don't agree with some of their business practices, namely how they use a company's name to direct leads back to their website. This is a real problem for me.
I personally no longer use HA, and I dropped them as soon as I could keep my schedule filled without them. I view this service as a tool for jump-starting a small business, but not as a long term marketing tool.
Here's What I Recommend
If you are just starting your business and you can't wait to grow your business slowly while you implement your own marketing strategies, then Home Advisor is probably worth a test run. The potential upside outweighs the downside.
However, if you're more established and/or your business isn't going to fail if you don't get more customers now, then there are better ways to generate leads, they just might take a bit longer to start working.
Either way, just don't make the mistake of totally outsourcing your marketing to these companies. If you do, you don't have a business, you have a job. Think about it.
Quick Tips to Maximize ROI
If you do decide to use HA to grow your business, here are some insights that I've gained that will help you close more leads and make more money.
#1:  Call leads immediately
This is the single most important factor to making HA work for you, even more so than having good reviews.  I've found that 9 times out of 10, if I call within minutes of receiving the lead, I get the business.  Some customers have even told me that they always choose the first person that calls.
#2:  Only sign up for small job leads
Leads for big jobs are expensive at $50 and up.  With price shoppers all over the place, this can eat into your profits really fast.  Thats why I recommend only signing up for leads for jobs under $15.  You will still get your foot in the door and can bank on the return business.
#3:  Eliminate leads that don't pay
After you've been using the service for a while, it's a good idea to go back over your leads and see which categories pay off and which one's provide mostly junk leads. Basically, do a quick 80/20 analysis and only continue paying for leads for jobs that actually convert. This can double your ROI with the service.
Stop Paying For Leads – Use This One Strategy To Keep Your Schedule Filled Consistently
Don't pay another dime for low-quality leads. Learn how to attract high paying customers to your home service business consistently and reliably in this free report.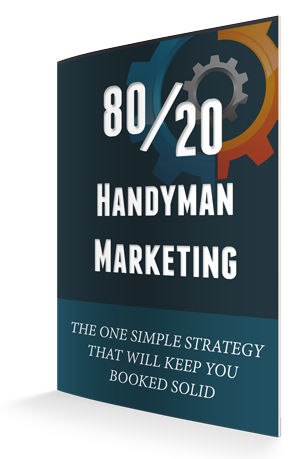 "80/20 Handyman Marketing"
You'll learn the one simple marketing strategy that will keep your schedule booked solid all year long without paying for leads.