Within six months of starting my handyman business, I was stung by the contractor's board and ticketed for contracting without a license.
It wasn't a fun experience. But, that situation forced me down a path to really understand the laws when it comes to offering handyman services, or really any type of contracting.
In this article, I'm going to share some insights to help you make sure your business is operating within it's legal limits – which is one of the first steps to starting a successful handyman business.
The "Sting" – Laws Learned the Hard Way
When I was stung by the contractors board, I couldn't believe it.
It all started when I got a call by a guy looking to have a small office painted. He was a little awkward on the phone, and I could sense something was off, but I couldn't quite tell what it was.
So, I told him I'd stop by to take a look at the job and give him a quote (I quit giving free quotes by the way).
When I got there, I immediately realized that this job was out of my league. The so-called "small" office was like 10,000 square feet. So, being the law-abiding citizen that I am, I told him that this job was outside of my legal limits, and that without a painting contractor's license, I could only do jobs that are less than a $1,000. This job was clearly going to cost more than a grand.
He said thanks, asked a few more questions, and then continued to hand me a ticket with a smug little look on his face.
"Why are you giving me a ticket, I didn't even quote the job?" I protested.
"Because you can't advertise services that require a specific trade license. I have your craigslist ad right here." He then goes on to list all of the services I was advertising that weren't allowed (pretty much ALL of my services).
"So, you're telling me that I can offer these services as long as they are for jobs under $1,000, but I can't actually advertise them?" I asked in a mocking tone.
"That's right." The investigator responded. And just like that my business dreams were crushed.
I walked away devastated and confused with a ticket in my hand. I had just started my business so I lacked the confidence I have now. I thought I was going to have to go back to working a 9-5.
But then my luck took a turn for the better.
One of my customers just happened to be a high end attorney that had a soft spot for helping the common man. He immediately saw this ticket as unconstitutional and offered to help me out for a very reasonable price. Long story short, we ended up winning the case and I went on to run a very profitable handyman business.
Yes, this worked out in the end, but it was a pain in the ass and I would've preferred to avoid it. Let's talk about how you can avoid this situation and start making cold hard cash for fixing people's homes.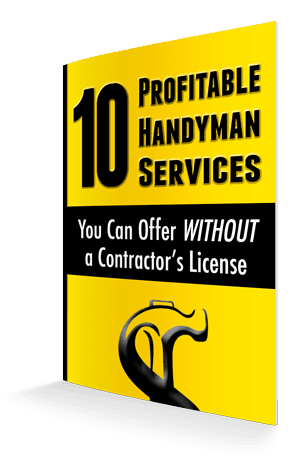 FREE REPORT: "10 Profitable Handyman Services You Can offer WITHOUT a Contractor's License"
Stop waiting and start making money with these 10 profitable services anybody can offer.
First, Know The Laws
Before you start offering services as a professional handyman, it's important to understand the laws that apply to contractors in your state. You'll want to find out if you need a handyman license, and what services you can and cannot perform for customers. Every state is different when it comes to contracting laws, so you'll need to do some research for yourself in your specific state. I'll go over how below.
Disclaimer: I'm not an attorney, and this is NOT legal advice. This is just what I would do if I was going to start a handyman business and wanted to avoid any run-ins with the law. Seek a qualified attorney for legal advice.
As a handyman, or any contractor for that matter, you are likely to have limitations on what you can do. However, you will be asked by many customers to perform jobs outside of your legal limits. Even my return customers are always asking me to do plumbing and electrical jobs, but I turn them down.
Why?
Other than to avoid a legal headache, it's important to protect your customers. From what I understand, if your customer's house burns down, floods, or gets damaged because of work performed by you, and you are not licensed to perform that work, their insurance won't cover the damage. Not cool.
I know this isn't that likely to happen, but it's not something I want lingering in the back of my mind while I'm trying to fall asleep at night. Maintaining peace of mind is a critical part of actually enjoying your business.
With that being said, here are the steps you should take to stay out of trouble.
#1 – Visit Your State Contractor's Board Website
Like I mentioned above, every state is different. So, simply search the term "your state contractor's board" in Google and your local contractors board website should pop right up.
In several states contracting laws are managed by the city or county instead of the state. In that case you might have to do some digging around. Try searching keywords such as:
"Construction Law in [your city]"
"Handyman exemption  in [your city or state]"
"[your state] contractor's board"
Once you've found the licensing laws for area, read about the laws that govern handyman activity in detail. Usually there is some sort of a handyman exemption that says what you can and can't do without an actual contractor's license. In most states, you don't need a license for small repairs, there will just be limits on what you can do.
For example, in California you can do most small repairs without a license as long as the total bill, including parts and materials, is less than $500. In Utah the limit is $3,000, and in some states there are basically no limits and you can build a house without a license!
#2 – Talk to An Investigator
You might find some vague laws during your research. This "gray area" is tough to mitigate because it's interpretation is subjective. That's why when you talk to a lawyer, they are only giving their legal opinion. Nobody knows for sure until it goes to court.
So, if you want to be ultra clear, I would recommend contacting the contractor's board and asking to speak with an actual investigator. The investigators are the guys out there handing out fines. Ask them to clear up any specific questions you might have to see how they interpret the laws. After all, they are the ones enforcing them.
#3 – Contact other handyman businesses
Most likely, the investigator you talked to hasn't thought through all the laws in detail. When I called one in my city, it was clear almost immediately that he only had basic knowledge of the statutes. This was frustrating because I wanted to know exactly what I could do. I know I can't do major electrical and plumbing, but can I swap a light fixture or just change a shower head? I'm still not totally clear on this.
If this happens to you, consider talking to other established handyman businesses in your area. Not only is it smart to connect with your competitors to form partnerships and help each other, but it's great to get some inside perspective on what has been enforced in the past.
#4 – Pay Attention to Your Marketing
As you may have already learned from my story, your marketing is often what can get you in trouble so be sure that you are abiding by all of the laws regarding advertising for home repairs.
For example, you don't want to advertise saying you are a contractor. In fact, in certain states, it's very important that you are clear that you are NOT a contractor. Sure, you can call yourself a handyman and even advertise for specific services, just make sure you are ads don't make people think you're a licenses contractor.
As I was getting cited in the story above, I took the opportunity to ask the investigator some questions. One thing he told me is the best place to find unlicensed contractors is to look on grocery store bulletin boards and on craigslist. This makes sense because those are the easiest places to advertise. Not very effective, but easy, which is attractive to the fly-by-night guys who are just trying to make a quick buck.
#5 – Talk To an Attorney
This step kind of goes without saying.
Legal jargon can be difficult to understand so once you've thoroughly read through the laws, consider scheduling an hour with an attorney to get their opinion. A few hundred bucks is nothing when you consider the long term success of your business. Be sure to do your own research prior so you can ask good questions. Otherwise you're money will be wasted because you'll just have more questions later.
Don't Get Discouraged!
I remember back when I was first learning the contracting laws in my state, it was extremely discouraging. I was very doubtful I'd even be able to run a profitable business with all of the rules and regulations. I mean, not being able to do any plumbing, electrical, HVAC, or jobs over $1,000 seemed like a business killer.
But, I decided to challenge that assumption and get started anyway. I focused on offering services that I could do (which turns out is a lot), and not what I couldn't do. Soon after, I uncovered several very profitable services that have allowed me to run a profitable business and enjoy the freedom of being my own boss.
So, don't get discouraged by all this! Anything worth having will require you to overcome some challenges. This is only part of the journey, the part where the competition quits and you pull ahead. Keep going, your freedom is worth it.
What state do you live in and what are your limitations? Please share in the comments below!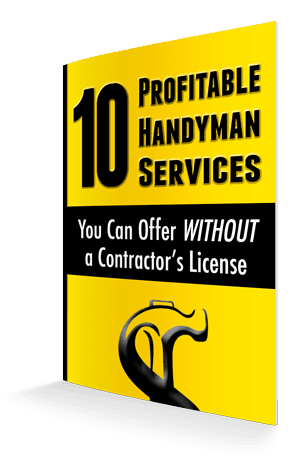 You DON'T Need A Contractors License To Start a Profitable Handyman Business
There are dozens of services you can start offering right now to start generating a profit. Learn 10 of the most common with this…
FREE Report: "10 Profitable Handyman Services You Can offer WITHOUT a Contractor's License"